By Eve Powell // @evejulia9
Results: 1-0 Loss @ Chicago Fire, 0-2 Loss vs Philadelphia Union
Hot on the heels of a soul-cleansing 4-2 victory over the New England Revolution, the Montréal Impact traveled to Chicago as part of a busy week. After the emphatic display, fans looked forward to the next performance eagerly, especially as Chicago and Philadelphia are two Eastern Conference foes against whom it is critical to gain points.
Rémi Garde presented a 4-3-3 line-up featuring the attacking trio who had put 4 past New England, and many were starting to feel hopeful with Rod Fanni and Michael Petrasso returning to health.
Unfortunately, an inability to capitalize on promising chances, a defender's successful stifling of Nacho Piatti and an unfortunate deflection contributed to what would be an unsuccessful day at the office for Montréal. However, there was little time to dwell on that loss. Philadelphia Union were in town on Saturday, a team who had not scored a road goal in 2018 and had not won in their last 16 road games. It was time to make a statement and begin to make a fortress out of Stade Saputo!
The lineup and formation presented for the match vs the Union were identical to the ones from mid-week – no squad rotation had been implemented. Perhaps this was when alarm bells should have begun to ring, but kickoff an hour later made it all too evident that no amount of rotation would have saved the Impact from the humiliating 90 minutes that were to come.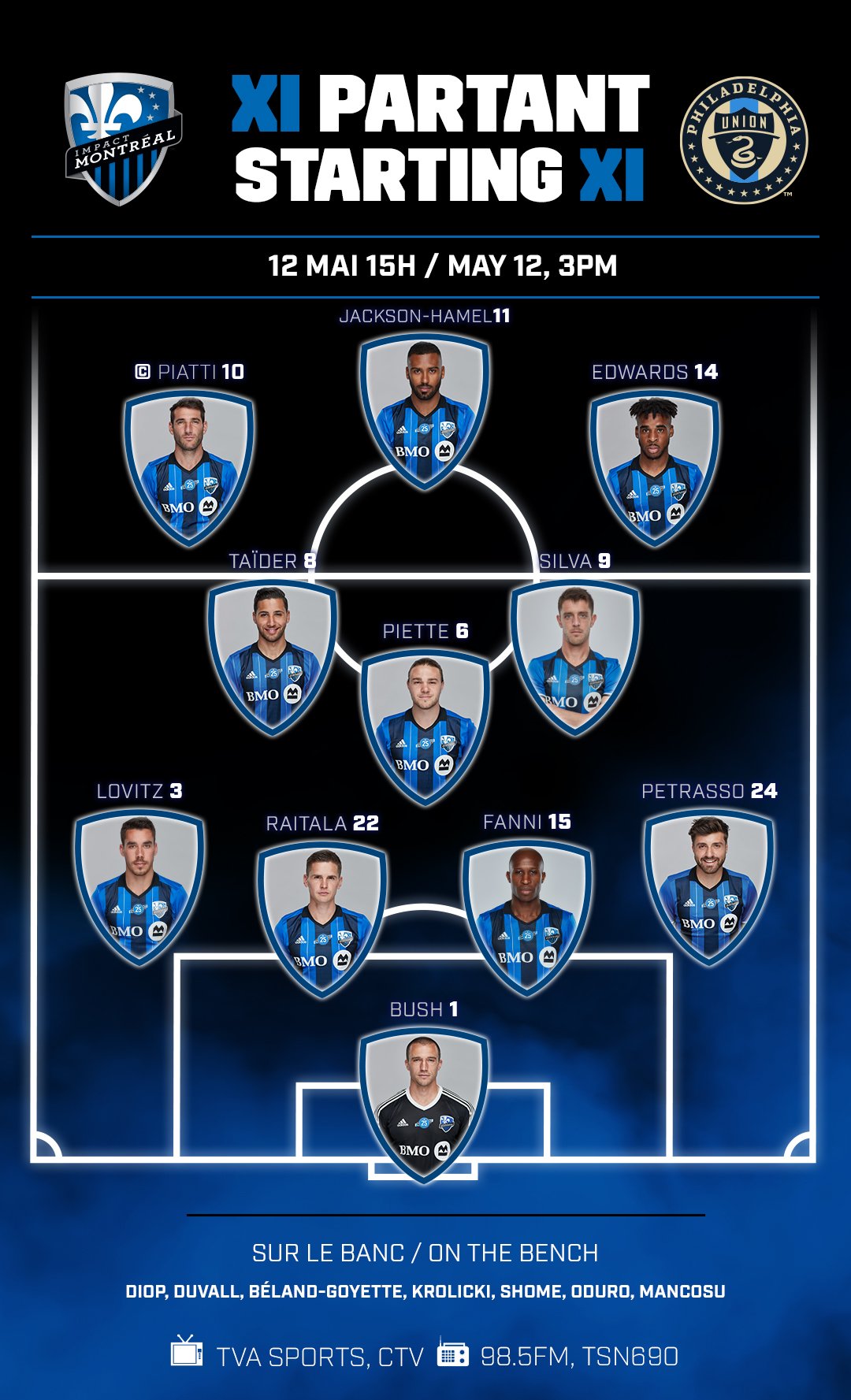 Individual errors would be to blame for both goals conceded, but it was the collective performance that was most shocking. The majority of Montréal players on the pitch displayed varying combinations of lethargy, sloppiness, apathy, and confusion. The Union had a much more disciplined side, and despite having played midweek themselves, they came out fresher and more prepared to claim their deserved 3 points.
Although Philadelphia's performance was simply superior in nearly all aspects, their goals highlight some of the most glaring problems on the Impact backline. First, simple marking was forgotten as lone striker Corey Burke was entitled to a free header to put Philly on the scoreboard just before halftime. Jukka Raitala tried to get back to his man before the damage was done, but like most of his team's efforts last week, it was simply too little, too late.
Let's check out that goal by Burke one more time!

0-1 | #MTLvPHI https://t.co/f5B9MRdSMk

— Philadelphia Union (@PhilaUnion) May 12, 2018
Near the end of the game, when both teams were down to 10 men, there was some sort of miscommunication on the backline, as Chris Duvall made an ill-advised horizontal pass near the goal line. Raitala allowed that pass to bobble over his foot, and Haris Medunjanin had no problem seizing the loose ball and sealing the Impact's miserable fate.
The simple tap-in by Haris

0-2 | #MTLvPHI
https://t.co/nwx6L4qMGh

— Philadelphia Union (@PhilaUnion) May 12, 2018
This season has been defined by many, including myself, as a transitional year. And that's perfectly fine. What is most frustrating is that the promising tactical and technical improvements seen in the early games of the season have disappeared from the Impact's play and the team who began the season on an encouraging note is barely a ghost of a memory. The drastic regression in performances over the past several weeks is deeply concerning. If this is meant to be a "reconstruction" … is the Montreal Impact in the demolition phase right now?
Next up: The Impact will celebrate their 25th anniversary with a Monday game versus the LA Galaxy, who are suffering their own defensive issues, on Monday, May 21st. To create more of a headache, Impact find themselves back to square one on the injury front – there is only one healthy central defender available! They will also have to figure out a solution to fill Daniel Lovitz's absence as he serves his red card suspension. There are sure to be goals aplenty…
Featured image courtesy: impactmontreal.com
Follow and chat with me on twitter // @evejulia9
Check us out on Instagram @mlsfemale