By Sheba Rawson // @shebainpdx
Wednesday, July 19: 1-4 Loss
On Wednesday night, my beloved Portland Timbers had one of the worst showings I have witnessed in quite awhile, losing 4-1 to Real Salt Lake, losing two players to red cards in the process, and setting us up for what could charitably be characterized as a challenging match this Sunday v the Vancouver Whitecaps.
We were already short-handed going into the match. In addition to David Guzman, Darren Mattocks and Alvas Powell out on international duty for Gold Cup, we also lost Darlington Nagbe as the big boys got called in for the knockout round for the USMNT. Yes, we are all very proud of their work, they are all showing well for their national teams. And yes, it is a mark of the quality of our first team that four of our starters are on international duty and that all of their respective squads have made it to Gold Cup semifinals; but it HURTS to have them gone when we have two games in a week's time, one of them against a Cascadia Cup rival.
We also have starters Liam Ridgewell, Vytautas Andriuškevičius, and Diego Chara sidelined with injuries, as well as backup left back and sometime starter Marco Farfan. We only managed to field a team of 16 total on Wednesday, including players who typically only see time at T2 matches. Oh, and by the end of the match we had also lost both Fandendo Adi and Victor Arboleda to red cards.
This move by Adi in particular is inexcusable:
Fanendo Adi had enough. He got the Timbers 2nd red card of the match @KGWSports #RCTID pic.twitter.com/NYgakDMpoA

— Orlando Sanchez (@orlandokgw) July 20, 2017
Look, we all have, um, opinions about Kyle Beckerman. And I am absolutely certain that he says and does subtle things on the field that could make a player angry. Heck, it took me about seven viewings to catch what got Adi so worked up: Beckerman's raised forearm to Adi's rib cage as he ran past at a full clip:
For anyone doubting, Beckerman deserved red. Ran by Adi and hit him. Good to see Adi level his ass. #RCTID pic.twitter.com/mesAn0fDR1

— Daniel P. (@DanielinPDX) July 20, 2017
But doggone it, Adi, we need you to be better than this. If Adi were a fifth grader in my office after doing this at recess soccer, I would tell him the same thing: don't let Kyle get to you, or he wins.
After Victor Arboleda's ejection, the rest of the match was a 9v10 affair, with only Jack Barmby having anything to show for it with his late score keeping us from giving RSL a clean sheet on the night.
By my calculations, that leaves us with a grand total of 14 players (three of whom are GKs, by the way) who are even available for Sunday's match. If even one of those players takes a knock at practice, we are in such dire straits that we would be eligible to sign USL players to short term contracts under MLS extreme hardship rules. I think our current situation can be summed up best as follows (hat tip to KC Green):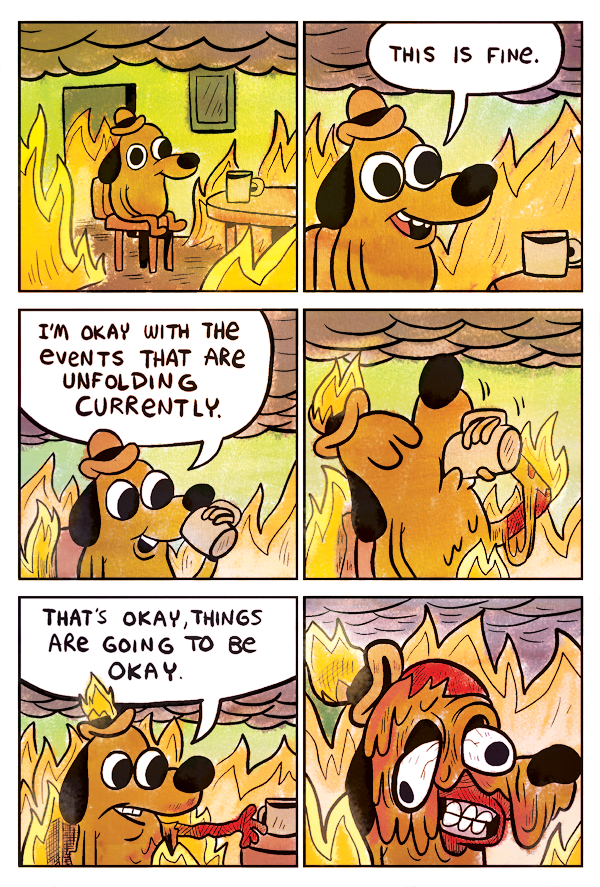 At this point there is naturally plenty of finger pointing, philosophizing, and navel gazing among Timbers Army faithful. Among the questions being raised:
Should we blame MLS scheduling, with two matches in a row in a week that would be expected to have players missing for international duty?
Is this situation the natural result of having done such a good job fielding a starting XI so that international call ups that hurt us so deeply are to be expected?
Is our shallow bench a result of MLS salary cap rules?
Is our shallow bench a result of wisely investing in youth at the T2 level, which unfortunately means they aren't quite yet ready for prime time?
Is it instead because our academy programs and in particular our T2 squad aren't being managed properly?
With so many injuries, is our training program in need of a serious overhaul?
When we are missing so many players who either have a particularly strong first touch (Nagbe) or a good return on 50/50 balls (Chara, Guzman), should we have had a different game plan?
I do not know the answers to these questions. I just know that at this point, with so many players out with injuries or away on international duty, we have very little in our control in order to make fundamental changes in preparation for Sunday. The best that we can hope for is that the fourteen or so players who are available can take this moment as a chance, both collectively and individually, to show us how they handle adversity.
We'll be there, hundreds of us making the trek from Portland to Vancouver. We'll be in full voice from before the kick til after the final whistle. Show us what you're made of, gentlemen.
Featured image courtesy: @TimbersFC
Follow and chat with me on twitter // @shebainpdx
Check us out on instagram @mlsfemale