By Sylvana Budesheim // @WhiteZinWench
Saturday, July 29th: 4-0 Win
Have I ever mentioned that I love Canada? It's kind of random on my part… I have no affiliation with the country as far as my heritage is concerned. But I just latched on to Canadian stuff when I was younger and it has stuck with me ever since. Barenaked Ladies… Kids in the Hall… Quebec City… Poutine…
So you should know that when the New York Red Bulls (11-8-2, 35 pts) faced the Montreal Impact (6-8-6, 24 pts), I sang along to both national anthems. The Impact's "home and native land" is pretty cool. And former RBNY defender Chris Duvall was in their starting XI, and he is no "Metro Reject".
THE SAME… BUT DIFFERENT: RBNY has been enjoying quite the run these days. They won every game they played this month, between League and Open Cup play, scoring 16 goals and keeping 3 clean sheets. I went back and read my last article about Montreal and RBNY… it wasn't very optimistic.
15 points later, I wish I knew what finally 'clicked' for the team… There were very few changes to the lineup: only 3 players from the defeat on June 3rd were not part of this win (Kemar Lawrence– suspension; Frederik Gulbrandsen– returned to RB Salzburg; and Mike Grella– season-ending injury). Defender Aurelien Collin is still out with injury.
Although the team had been doing well while Michael Amir Murillo was away for the Gold Cup, he just fit back in upon his return, which is fantastic to watch. His mental presence to poke the ball in from Daniel Royer's cross in the 58th minute and open his MLS scoring account was ridiculously satisfying to watch.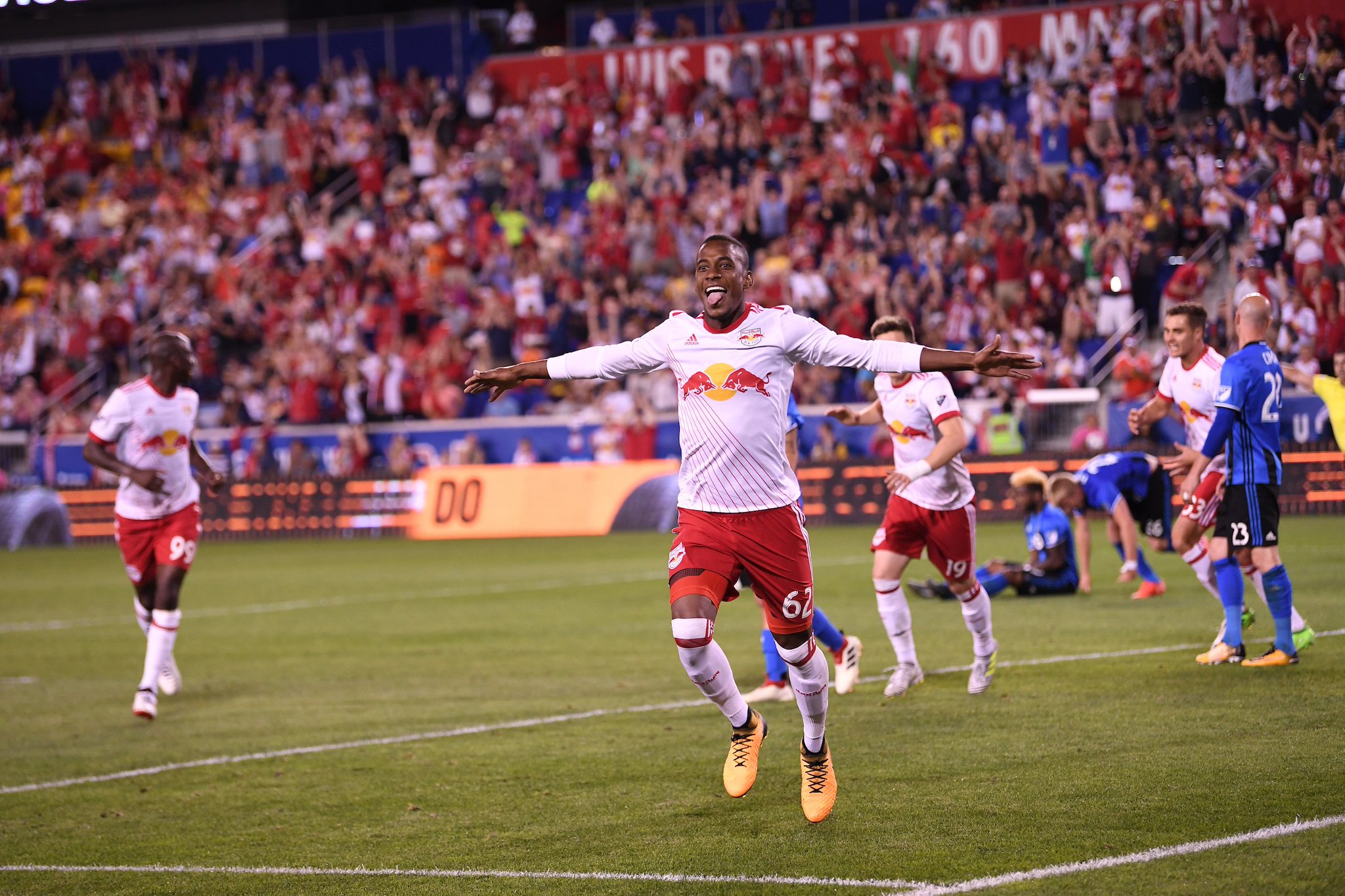 ROYER ROLLING (AND FLIPPING): Speaking of fantastic to watch, Austrian attacker Daniel Royer has really grown into his role as fellow striker with Bradley Wright-Phillips. With 2 braces in the last 3 games, he's just getting hotter for the team.
He started off the scoring for RBNY with a penalty kick in the 23rd minute, having been clipped by Impact GK Maxime Crepeau trying to make a save. Then his second goal, slotted between Crepeau and the near post in the 90th minute, looked a lot like his second goal against San Jose Earthquakes. Quite the signature goal, as well as the signature celebration.
Dani Royer scores his 6️⃣th goal in 4️⃣ @MLS games! 🤸‍♂️#NYvMTL | #RBNY pic.twitter.com/5jVqyjx1JJ

— New York Red Bulls (@NewYorkRedBulls) July 30, 2017
Of course, it must also be noted that BWP netted his 80th goal in his RBNY career (85′), taking only 128 games to reach that number. This puts him at #16 of all-time MLS scorers.
CH-CH-CH-CH-CHANGES: The summer transfer window for the Red Bulls, like the season itself, had a bit of a slow start. But the game began with a new player in the red training top: Panamanian defender Fidel Escobar was on the bench for the team, although he did not make his debut.
Forward Muhamed Keita is not yet available. And head coach Jesse Marsch has said there could be more moves coming before the window closes. Will he nab a trade from another MLS team? Will any members of NYRBII get a nod? And what will these moves mean for the current members? Change can be scary, but necessary.
The 2nd (or 3rd, if you include the Open Cup) Hudson River Derby of the season is coming up after the MLS All-Star Game. Best wishes to Tyler Adams, Derrick Etienne Jr, and Evan Louro, participating in the Homegrown All-Star Match. The rest of the guys seem to be enjoying a little time off:
Hanging at the beach feels great after a nice win!!#RBNY pic.twitter.com/EWnohYT6RA

— Sal Zizzo (@SalZizzo) July 31, 2017
Bring it on back, guys, and be ready for even more!
Featured image courtesy: @NewYorkRedBulls
Follow and chat with me on twitter // @whitezinwench
Check us out on instagram @mlsfemale