Mandy Collins // @missmandybunz
August 14, 2021 New York City FC 2 – 0 Inter Miami CF
New York City FC: Sean Johnson, Anton Tinnerholm, Maxime Chanot, James Sands, Malte Almundsen (Gudmundur Thórarinsson 46′), Keaton Parks, Alfredo Morales, Thiago Andrade (Santiago Rodríguez 68′), Maximiliano Moralez (Talles Magno 76′), Ismael Tajouri-Shradi (Jesus Medina 68′), Valentin Castellanos (Andres Jasson 86′)
Inter Miami CF: Nick Marsman, Kieran Gibbs (Christian Makoun 73′), Leandro González Pirez, Jorge Figal, Kelvin Leerdam, Blaise Matuidi (Jay Chapman 81′), Gregore de Magalhaes Silva, Victor Ulloa (Indiana Vassilev 64′), Rodolfo Pizarro (Federico Higuaín 73′), Gonzalo Higuaín (Julian Carranza 73′), Lewis Morgan
It's been a difficult few weeks as a NYCFC supporter. We watched our team go from shutting out Orlando 5-0 and avenging the loss in Columbus by wrecking the Crew 4-1 at Yankee Stadium to posting draws against Chicago and Toronto (both teams have been low on the table this year) and crashing out of the Leagues Cup against a weak Pumas team. But just like a bad storm, the clouds eventually part.
New York City FC returned to Red Bull Arena (ugh) to face Inter Miami CF. Miami had not lost in four games, the best stretch of games they've played all season. NYCFC had had a series of unfortunate matches and supporters were worried the curse would carry on through Inter Miami. Fortunately, the Boys in Blue proved that they can still win games by shutting out Miami 2-0.
In the 10th minute, NYCFC's Malte Amundsen tripped up attacking Miami player Lewis Morgan which resulted in a yellow card for Amundsen and a freekick for Miami in a dangerous spot. Thankfully, NYCFC goalkeeper Sean Johnson had an easy save. A few minutes later, NYCFC found themselves defending another attack from Miami. Morgan crossed the ball dangerously behind NYCFC's defense, attempting to link up with Gonzalo Higuaín making a run in the box. NYCFC defender James Sands stuck his foot out and was able to redirect the ball, but almost found the net himself.
In the 20th minute, NYCFC midfielder Maxi Moralez saw striker Taty Castellanos and crossed the ball up over Miami's defense. Taty launched himself into the air and beautifully headed the ball past goalkeeper Nick Marsman to put NYCFC up 1-0. It was Taty's seventh goal of the season and made him the third highest scorer in MLS this season.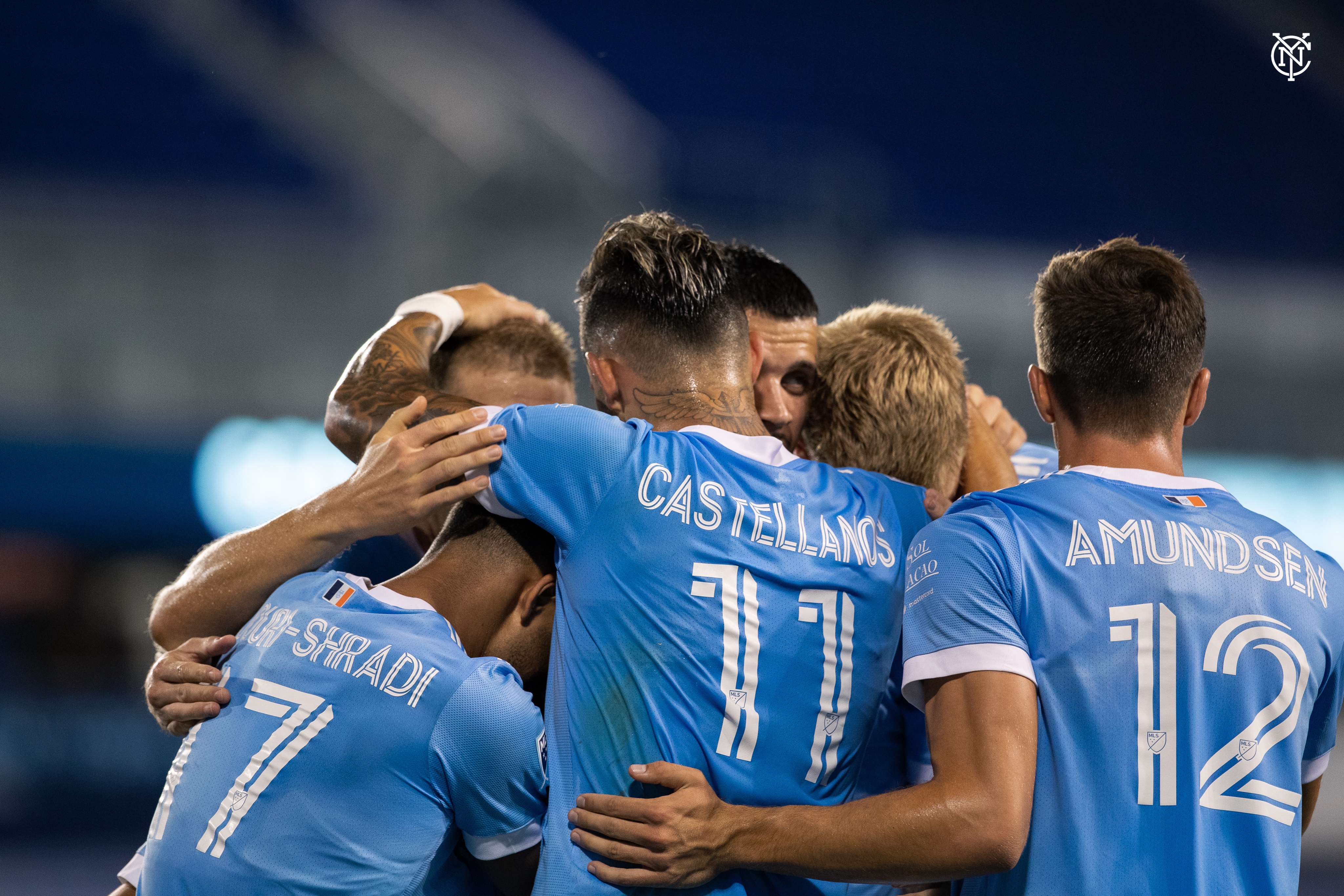 Inter Miami had their best chance to equalize just a few minutes after Taty's goal. Higuaín broke away from NYCFC's defense and attempted to chip Sean Johnson. Fortunately for NYCFC supporters, his chip bounced off the top of the cross bar.
A hot topic among supporters this season has been the discussion surrounding Taty Castellanos. Some supporters see Taty as being one of the best strikers in MLS (myself included) while others are ready for Taty to move on to another club. Taty started the season very strongly, scoring at least one goal in each of the first five matches of the season. He then had a dry spell of several games with no goals. He now seems to be finding his form again as his performance against Miami was very strong. Not only did he score the first goal, but he had several moments of brilliance in this match.
He also provided a perfect example of why some fans would prefer he move on. Near the 30th minute, Taty pressed the Miami defenders so well that he stripped them of the ball and streaked toward the goal, one-on-one with Marsman. His decision in the moment was to shoot the ball to his right, but did not get good contact on the ball and shot wide of the goal.
Just as the clock hit 45 minutes, NYCFC forward Thiago was able to draw a penalty for NYCFC after he shot the ball and Miami defender Kelvin Leerdam raised his hand, accidentally committing a handball. Taty immediately headed to the spot and cheekily sent the ball into the goal with a panenka penalty.
The second half saw a variety of shots, fouls, and yellow cards. Both NYCFC and Inter Miami had their share of shots near goal, but neither were able to finish any chances. Taty continued to put a lot of effort into his performance, despite already having a brace. It was nice to see his hard work pay off a bit in this match with the two goals he was able to tally. Hopefully this trend will continue into future games.
NYCFC head to Chester, PA, to play Philadelphia Union on Wednesday, August 18th at 7:30PM EST. My personal hope is that NYCFC Coach Deila rotates the squad in preparation for the NY Derby against the Red Bulls next Saturday, August 21.
Feature and other images: NYCFC
Follow and chat with me on Twitter // @missmandybunz
Check us out on Twitter: @SwitchThePitch1 and Instagram: @SwitchThePitch1